It all started one summer day in 1869 when Mary Walsh, a poor Irish immigrant girl, came to the United States and settled on the east side of New York City.   She secured employment as a laundress with a wealthy family.
On her way to work on an August day a child's cry of distress caught her attention.  She saw the child – about seven years old – sobbing.  Gently, she tried to comfort the frightened little girl who told Mary Walsh that her mother was upstairs ill, and she did not know what to do.  Mary went upstairs with the child and found the child's mother lying gravely ill, a dead infant by her side.  Her prayer was, "Dear Lord, aid me.  Tell me how to help."  During the next few days, Mother Mary Walsh sacrificed her much-needed job and devoted all of her time to helping this "helpless" family.  From then on, having seen the desperate plight of the poor with her own eyes and felt it with her own heart, she dedicated herself to a lifetime of charity and mercy.
This incident was to influence her whole life. Though not conscious of it at that time, she was laying the foundation of her real vocation as a benefactress and friend of Christ's sick poor, no matter what age, race, creed or color.  Mother Mary Walsh made plans for the work to be carried out in other parts of the United States, including Denver, Colorado. Although she died in 1922, four Dominican Sisters carried out her plans later that year on the invitation of Denver Bishop Tihen. Through the joint efforts of the sisters, Father Charles McDonnell, S.J. (pastor of Sacred Heart Church and Loyola Chapel), The Knights of Columbus, the St. Vincent de Paul Society, and the Ancient Order of Hibernians, a house was found at 2501 Gaylord Street where the agency still resides to this day.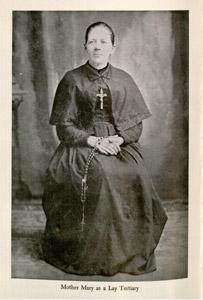 "What a privilege it is to work for the sick poor!" Mary thought they were "the children of God crucified on the Calvary of Life."
For those wanting to continue this legacy, DHHA has established the Mother Mary Walsh Society to honor donors who contribute to the agency's work through a planned gift.  When you name Dominican Home Health Agency in your will, or as a beneficiary of a life insurance policy, IRA, CD, or other securities or assets, your name permanently becomes part of this society.
To find out more about continuing this legacy click on the link below.